Deeper insight
Most people in rural areas are too poor to acquire land titles.
Analysis in different languages: Ugandan English, Luganda and Acholi
If a woman is going to give birth, and there is no health service or health worker, she is going to get fistula.
Eddwaliro lyaffe temuli yadde panadol kyokka nga n'abakyala bazaalira ku sseminti
Translation from Luganda: After 30 years, they are telling us they have built health centers. The same health centers have no medicine, not even the basic medicine like panadol. Women produce from the floor....
Obuyambi bwobwerere bujja kulekesa abasajja okulabirira bakyala babwe abembuto.
Translation from Luganda: Free healthcare for pregnant women will give people the wrong idea. Men will stop looking for money when their wives are about to give birth, as they will think the government will provide everything. They will have many children without the means to support them.
Different forms of information
Personal experiences and opinions:
The cause of early marriages most times is a lack of self esteem. Most girls don't know what to do after school.
At a school a boy told me 'I don't know what I'm going to do. At home my father is arranging marriage for me'.
Comment from officials, spokespersons and public figures:
Domestic violence is not increasing. What is increasing is the level of intolerance. People are now becoming intolerant to violence, that's why they are reporting cases.
Local news reports, providing information on events:
Concern over high dropout rates among young girls in Otuke district.
Extracting statistics
Floods in slums are causing people to migrate.
The number of mentions of floods, storms and heavy rains were counted week by week. The trend corresponds to the heavy rains caused by El Niño, peaking in Kampala in mid December.
Number of flood-related discussions per week: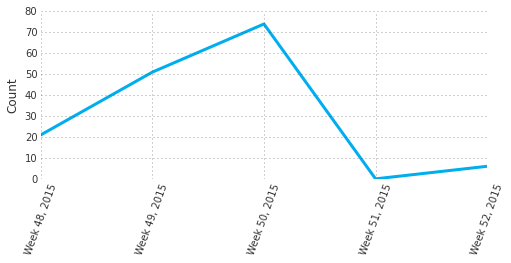 Analysing content from different regions
Example from Gulu:
An mere amito ngat mo ma pe okwano en aye otel wiwa.
Translation from Acholi: We want to get a person who has not gone to school to be our leader. They are humble, they have stopped in the lower classes so they don't cheat the people. The ones who have gone to university only come and stamp on the people.
Wawinyo ni line mac ongolo wa ki kwene
Translation from Acholi: Our MP promised us power, but the electricity lines have passed somewhere else. We elected you as our MP to do such a job, so that you bring us power just as other regions are getting.
Translation from Acholi: Our LC3 chairman wants to be re-elected, but he's there drinking with the doctors... you go to the clinic and there are no doctors there, they are in the bar with the LC3.
owcalo grader kany ocoro wang yo acora obalo muranga pa dano
Translation from Acholi: The LC3 subcounty chief is bad. He sent a grader to grade the roads, and instead the graders destroyed our beans and our maize, and there was no road construction done. And the next time he comes, he will still get us here.
There is violence against female candidates not just from the police, but also from the public... they have been called bad wives, they've been called harlots
Example of radio analysis for monitoring campaign implementation
Have you ever been asked to pay a bribe?
Announcement on December 4
th
, on 91.3 FM:
Announcement on December 8
th
, on 91.3 FM:
Announcement on December 10
th
, on 93.3 FM:
Announcement on December 11
th
, on 93.3 FM: